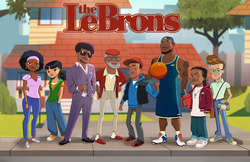 New York, NY (PRWEB) February 19, 2011
The LeBrons", the new, original animated Web series soon-to-be-launched by LeBron James through his production company Spring Hill Productions and New York-based digital entertainment company Believe Entertainment Group today announced the all-star voice cast for the show and the production team led by Dru Dog Productions, comprising renowned, top talent from across the animation business.
The LeBrons is a family entertainment show designed to provide positive messages to todays youth and young adults and features four characters KID, WISE, BUSINESS and ATHLETE that were originally inspired from a series of Nike television commercials starring LeBron James. The show will tackle a wide variety of subjects, including family, teamwork, friendship, giving back to the community, staying in school, staying out of trouble, and more, all done in an edgy, fresh and relatable way.
Niecy Nash, last seen on The Style Networks home makeover show, Clean House, and as a celebrity correspondent for CBS Entertainment Tonight will be the voice of GLORIA, the mother figure of The LeBrons. Niecy just recently announced plans to partner with TLC for a two-hour wedding special following the bride-to-bes upcoming nuptials to fianc