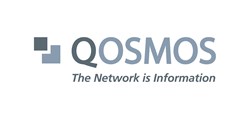 Paris, France (PRWEB) October 16, 2013
Qosmos, the only pure-play supplier of embedded Deep Packet Inspection (DPI) and network intelligence technology, today announced its active involvement in the SDN & OpenFlow World Congress, 15-18 October in Bad Homburg, Frankfurt, Germany.
The SDN & OpenFlow World Congress is dedicated to the advancement of the Software-Defined Networking (SDN) movement. Co-hosted by the ONF, it is the industrys largest and most important knowledge exchange dedicated to SDN and NFV. Find out how Qosmos meets the industrys need for embedded technologies that make networks smarter and application-aware.
Meet Qosmos at stand no. 40 or during the following conference presentation:
Why Network Intelligence is key to the successful rollout of SDN/NFV


Bandwidth and the NFV dilemma addressing the performance challenges of SDN and NFV
The role of DPI in virtual switch performance raising the efficiency of traffic steering, monitoring and QoS operations
Identifying performance benchmarks and key factors in maximizing ROI
Thursday 17 October 2013, 14:10 – SDN Cloud & Datacentre Forum

Speaker: David le Goff, Director of Strategic & Product Marketing, Qosmos
Network operators deploying SDN and NFV-based networks can take advantage of the network intelligence delivered by DPI to offer new services and better manage bandwidth. DPI also gives operators more control over their networks by helping them identify and supervise the wide range of services and applications they carry. This is achievable with DPI technologies from Qosmos, designed to accelerate the development of networking equipment supporting SDN and NFV.
Qosmos flagship product ixEngine