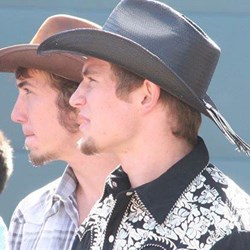 Olympia, WA (PRWEB) January 02, 2014
The largest and longest-running country music talent search in the nation, the Texaco Country Showdown, has named the Olson Brothers of Olympia, WA, the Grand Prize Winners in a songwriting competition to find the best independent country music songwriter in the United States. Hundreds of musicians competed, tens of thousands of votes were counted and a panel of country music experts made the final decision to name the Olson Brothers song, Sunrise, as the Grand Champion. Brothers Luke Olson, 20, and Isaac Olson, 22, have earned $ 5,000 as well as a trip to be introduced at the Nashvilles 32nd annual Texaco Country Showdown and consult with professionals in the music industry.
We have grown up doing everything together and are very passionate about music, said Luke Olson. We are thrilled to bring the national award to Washington.
The Texaco Country Showdown is America's largest Country music talent show. It's designed to find the most promising country music talent in the nation and to give these performers a chance to launch their professional music careers. Songwriting competitors submit a recording of their song to the Showdown website, and the top five songs chosen by the public are evaluated by a panel of Nashville music professionals, and they choose a monthly winner. Those winning songs advance to a final competition round each November, where an esteemed panel of songwriting greats chooses the Grand Prize Winner.
Luke a business and music major at Pacific Lutheran University (PLU) in Tacoma, is the bands lead singer and plays the acoustic guitar, electric guitar, piano, and records the bands music. Isaac is an engineering major at Washington State University in Pullman, plays the mandolin, acoustic guitar, and writes songs, also sings lead vocals, and promotes for the band. They began writing songs together and performing as The Olson Brothers in 2011. After adding Nate Collins on Bass and James Blackburn on drums, the Olson Bros Band began playing live shows across the state in 2013.
The Olsons winning song, Sunrise, was inspired by views of Mt. Rainier from the highway during Lukes 6 a.m. commute to Tacoma from Olympia each morning. One morning as I was getting so bogged down by my classes and homework, and I was just in a terrible mood and way behind. I looked outside my car and saw the most beautiful sunrise I had ever seen in my life, with Mt. Rainier in the background. The sight was the most breathtaking thing I had ever beheld, and it was one of those moments where it puts thing in perspective. I was so inspired by the sight that I skipped class that morning to watch the rest of the sunrise, and thats where came up with the idea and wrote a chunk of the song.
Sunrise helped The Olson Brothers to win the Battle of the Bands at Capital Lakefair in 2013, and the song went on to win the Texaco Country Showdown for the month of July, and the national songwriting championship at years end.
The Olson Brothers Band will continue to play shows all over Washington State, including one at The Brick in Roslyn, WA on Jan. 3. Registration for the free admission event is available at http://www.brownpapertickets.com/event/539159. They and plan to record songs at a professional studio while they are in Nashville for the Texaco Country Showdown Jan. 16, and they hope to release their first professionally-recorded album in 2014.
Wed like to thank our family, friends, and fans for taking the time to vote for our song, and for always believing in us, said Isaac Olson. For now, we are gonna celebrate. Were goin to Nashville! said Luke.
To download a digital version of Sunrise, and other songs from The Olson Bros Band, go to http://theolsonbrosband.com/music. To view the official music video for Sunrise, go to http://www.youtube.com/watch?v=_uu94p78Pz0. For more information about The Olson Bros Band, including their touring schedule, footage from live shows, and other music videos, go to http://theolsonbrosband.com.
###
About the Olson Bros Band

Luke and Isaac Olson were born and raised in Olympia, WA and went to Capital High School. Luke is currently a junior in college attending PLU in Tacoma, with a major in business administration and a minor in music. He has taken songwriting/recording private lessons with Jeff Leisawitz for the past two semesters at PLU. Isaac is a senior majoring in engineering at WSU. They both dream of touring with their band someday and performing at the Tacoma Dome! Other band members include Bass player Nate Collins from Olympia WA, and Drummer James Blackburn originally from Los Angeles CA.
The Olson Bros. Band enjoys writing songs that display strong emotion. They write about dancing, partying, natures beauty, ladies, love, hitting the hay, big ass trout, beer, and basically anything that relates to their lives or having a good time! Some of the bands all time favorite artists include Toby Keith, Lee Brice, Billy Currington, Zac Brown, Jake Owen, Trace Adkins, Dierks Bentley, Blake Shelton, Jason Aldean, Taylor Swift and Florida Georgia Line.
Editors Note: The Olson Bros. Band is available for in-studio performances and interviews. Contact: Luke Olson at 360-490-1773, or email him at theolsonbros(at)gmail(dot)com.