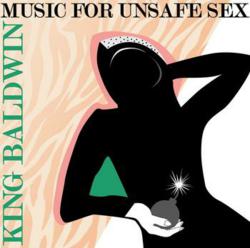 (Vocus/PRWEB) May 20, 2011
King Baldwin, an indie rock band based in San Francisco, has just put out their first album, Music for Unsafe Sex. The title reflects how the tracks feel: funky, dark and naughty. Its now available for listening pleasure on iTunes, Amazon, or through links on the bands website at http://www.kingbaldwin.com/.
King Baldwins core members include Alexander Eccles, lead singer, and Gabe Turow, Afro-beat percussionist and maker of ceramic instruments. Eccles and Turow wanted to make an album that was fresh, creative, and (lacking anything resembling a budget) cheap.
Music for Unsafe Sex includes songs like Ron Jeremy, a minimalist exploration of the special education teacher and classical pianist who repeatedly rose to become the legendary adult film superstar. There is also a song about being cryogenically frozen, a morality piece about a naughty secretary, and a mantra-like tune named In the Evening that features Turow playing an electric, ceramic kalimba he made himself.
The album also contains "Mega Man" (a song about the video game hero with lyrics the band says they struggled with to make "not too stupid"), an Ethiopian horror-funk tribute to Dawn of the Dead, an experimental tune called Muted-Low Lullaby and a bluesy closing number named Muse, which Eccles said lyrically addresses the consternation of what-the-hell genre I should write in.
Picking a genre is always tricky for King Baldwin. It is the most cohesive album Ive ever made, said Eccles. But its still all over the place.
In line with their zero-cost approach, they didnt use an expensive studio. Instead, they just used their crappy microphones in a homegrown studio in their Ocean Beach apartment. They also passed files through email. They sent their tracks to various musicians, like bassist Jared Milos, who would track over them and return their tracks in email.
Something that bears a true imprint is usually made by an amateur. Its a labor of love, not whatever a label wants you do, said Eccles. Besides, unless youre Radiohead, people arent going to be listening for the fidelity of the high hat or anything.
Tackling the album design was challenging, as Eccles and Turow wanted something that referenced the glaring title while remaining somehow classy and subtle. The final image, created by Pixar's Liz Seibert, features the iconic "King Baldwin" figure, this time in silhouette and holding a cartoonish lit bomb.
For more information about Music for Unsafe Sex or anything to do with King Baldwin, call them at 415-302-8291 or visit them on the web at http://www.kingbaldwin.com.
About King Baldwin

King Baldwin is a San Francisco indie rock band that writes catchy, funky, dark, melodic art-rock. The band currently features Alexander on keyboards and vocals, Gabe Turow on percussion and vocals, and Jared Milos on bass, along with a galaxy of amazing local pros who guest on recordings and at live shows.
King Baldwin performs at well-known San Francisco clubs like Bottom of the Hill, Hotel Utah, Boom Boom Room and Cafe du Nord. A YouTube music video of their hit song "Adult Movie Theatre" can be seen at http://www.youtube.com/watch?v=ZmR99I8hR-I.
###